Zurück zur Übersicht
Berühmte Frauen und Cigarren
…. von Katharina die Grosse bis Madonna.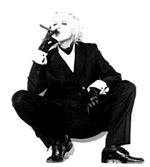 Eine kleine Auswahl an berühmten Cigarren-Liebhaberinnen bei The Cuban Cigar Lifestyle:


Famous Women & Cuban Cigars

Catherine The Great (1729-1796) was an avid cigar smoker. She is credited with being the first to put a band around a cigar, purportedly so that her fingers wouldn't be soiled with tobacco stains.

Gertrude Stein (1874-1946), a contemporary of Hemingway and Fitzgerald, had a taste for Cuban cigars.

Biographer and poet Amy Lowell (1874-1925) scandalized her New England neighbors by smoking Cuban cigars and cursing in public.

French novelist Sidonie Gabrielle Colette (1873-1954) commonly referred to as just "Colette" – was rumored to have smoked cigars in bed.

Nellie Melba, an Australian coloratura soprano, claimed she took her vocal strength from smoking Cuban cigars. The owner of La Africana Cuban cigar factory in Cuba (the first factory to employ a woman 1878) sent Nellie the factory's choicest cigars.

Novelist George Sand (1804-187O) began life as Amadine Aurore-Lucie dupin, Baron Dudevant, but took a man's name to get her work published in a male dominated world. She was known to stride about Paris in men's trousers, trench coats and neckties, smoking Cuban cigars, sometimes 7 per day. Today her name is perpetuated by the largest women's cigar smoking society, the George Sand Society, founded in Santa Monica, California in 1992.

Lillian Russell, a famous American actress, reportedly smoked 500 three inch shaped Cuban cigars a month. The manufacturers, grateful for her contribution of charm to the industry, immortalized her on early lithographs.

A true rogue, Bonnie Parker of the infamous Bonnie & Clyde, smoked Cuban cigars as she and Clyde wreaked havoc across the southwest during the Depression.

Annie Oakley puffed on cheroots to calm her nerves before and after shooting exhibitions.

Who can forget the night bad girl Madonna smoked a cigar and left the host steaming during an appearance on "The Late Show with David Letterman" in March 1994.

Marlene Dietrich, who portrayed Catherine the Great in the film "The Scarlet Empress," was often seen smoking Cuban cigars.

Oscar-winning actress Jodie Foster often enjoys a fine cigar.

Whoopi Goldberg says she has been smoking Cuban cigars since she was a teenager. Montecristo is one of her favorite cigar brands, and if you ever have the opportunity to smoke with her, know that she prefers punching a hole in the end to snipping.